aLogCat : sending your log
First, you will have to install aLogCat application on your phone :  Download on Play Store
Second step, launch aLogCat, you will now see the log of your phone, with lot of things showing up.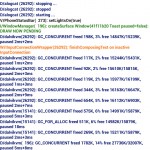 You will now have to filter the log with « Lotus Launcher »
After the filter is applied, you should see a lot less things on screen. You will have only the log of Lotus Launcher app.
To finish, you just have to send me the log, through the share action :